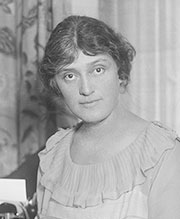 ALMA GLUCK was a world famous female concert singer and recording star in the early 20th century. She earned a place in recording industry history by creating the first million-selling phonograph record.
In 1890 her family moved to New York City where she first had piano lessons and then voice training by Signor Buzzi-Peccia. In 1909, at the age of twenty-five, she was selected for her first starring role at the Metropolitan Opera House. Her success was immediate. The fresh beauty of her voice and her delightful personality made her a great favorite at the Metropolitan's Sunday night concerts. By the end of her second season at the Metropolitan, Alma Gluck was well-established in the world of opera.
Gluck made her first concert appearances with the Boston Symphony and Philadelphia Symphony Orchestras during the 1911 -1912 season. As she gave concerts around the country, her popularity grew and her tours became more extended. In 1913, Gluck withdrew from public appearances in order to study with Marcella Sembrich a world-famous soprano of the day.
Although she was quite successful giving live performances, "it was her recording career that catapulted her to lasting fame. First recording for the Victor Talking Machine Company in March 1911, she enjoyed a tremendous success with the record-buying public. Over the years, she returned again and again to the studio to meet the ever increasing demands of that public, and Victor often released two, or even three, of her titles per month including duets with Louise Homer, Paul Reimers, Enrico Caruso, and the violinist Efrem Zimbalist. Her earnings from record royalties were phenomenal for the time. For instance, between 1914 and 1919 she received royalties totaling over $600,000. Her recording of "Carry Me Back to Old Virginny" became the first phonograph record by a classical artist to sell over one million copies (Edward Hagelin Pearson, Liner Notes, 1997)."
In June, 1914, the musical world buzzed with excitement about the marriage of Alma Gluck to Efrem Zimbalist, the talented and famous violinist. After a wedding in London, the young couple returned to America where they met with unprecedented success.
After the birth of her daughter Maria in 1915 and Efrem, Jr. in 1918 Gluck reduced her performance schedule. But fate was not kind to Alma Gluck as her health and her voice failed her. After her retirement she devoted herself to her family and to the artistic world. She was a founder of the American Guild of Musical Artists and was famous for her support of musical causes as well as for her soirées.
The Zimbalist-Gluck romance provided lots of material for the gossips of their day. While the idea of such a wonderful pairing of talents was thrilling, there were those who pointed out that Gluck was six years older, as well as a divorcee with a daughter. Scandalous!
After their marriage of Alma Gluck and Efrem Zimbalist Victor/Victrola capitalized on a sure bet: recording the newlyweds together.
The JSA has collected 20 song recordings featuring the combined talents of Alma Gluck and Efrem Zimbalist.
These recordings were produced prior to 1923 and are in the public domain.