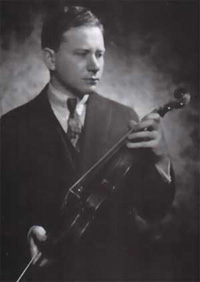 EFREM ZIMBALIST was one of the great classical music performers of the 20th century. His father, Aron Alexander Zimbalist, conducted orchestra for the opera and concerts of the Ukrainian Opera Company at the Smalov Theatre. From the age of five, Efrem's talents were understood and nurtured, first at the Imperial Music School and then at the Imperial Conservatory of Music in St. Petersburg. He received awards and prizes during these years and became part of a chamber music group mentored by the great composer Nicolai Rimsky-Korsakoff.
Between 1907 and 1911 his fame grew as his debuts in Vienna, Berlin, and London brought him rave reviews. After touring throughout Eastern Europe and Russia, he set out, at the age of 21 for America, the land of opportunity.
On October 27, 1911 Zimbalist made his USA debut with the Boston Symphony under the direction of Max Fiedler. Prior to his NYC recital at Carnegie Hall, however, he was engaged for a private concert in Paterson, NJ. It was on the ferry to New Jersey that Zimbalist met and fell in love with soprano, Alma Gluck, young rising star of the opera world.
They were married on June 15, 1914. War in Europe erupted while they were honeymooning in France, near the Swiss border. Fortunately, the couple managed to arrange for passage back to America and despite some tense moments with French border guards, they were soon happily living on New York's Upper West Side.
The young, happy couple made many recordings together including Ave Maria, and Massenet's Elegie. But, their most financially successful recordings was the popular Stephen Foster song, Old Folks at Home, and the Zionist hymn, Hatikva.
The couple enjoyed great financial and professional success during the1920s and early 1930s. However, as Alma's voice began to falter she became increasingly unhappy. Following years of failing health she died in 1938.
In 1940 Zimbalist was invited to come to Philadelphia in an effort to put the Curtis institute of Music back on its feet. He accomplished this, and, in the process met Mary Louis Curtis Bok whom he married on July 6,1943.
In 1968, at the age of 78, Zimbalist attended at his last graduation ceremony at Curtis as its director. Over 70 students graduated from Curtis under his tutelage, including Felix Slatkin, Shmuel Ashkenasi and Toshia Eto. After his wife died in 1970 he retired to Reno, NV and lived there until he died.
"One needs to be a consummate technician (with just the right degree of tasteful virtuoso glitter), enlightened musician and captivating but controlled personality to be a successful performing artist today. Zimbalist was all these in 1907 (Malan, Roy. Efrem Zimbalist: A Life. Amadeus Press, 2004, page 333)."
The Zimbalist-Gluck romance provided lots of material for the gossips of their day. While the idea of such a wonderful pairing of talents was thrilling, there were those who pointed out that Gluck was six years older, as well as a divorcee with a daughter. Scandalous!
After their marriage of Alma Gluck and Efrem Zimbalist Victor/Victrola capitalized on a sure bet: recording the newlyweds together.
The JSA has collected 20 song recordings featuring the combined talents of Alma Gluck and Efrem Zimbalist.
These recordings were produced prior to 1923 and are in the public domain.