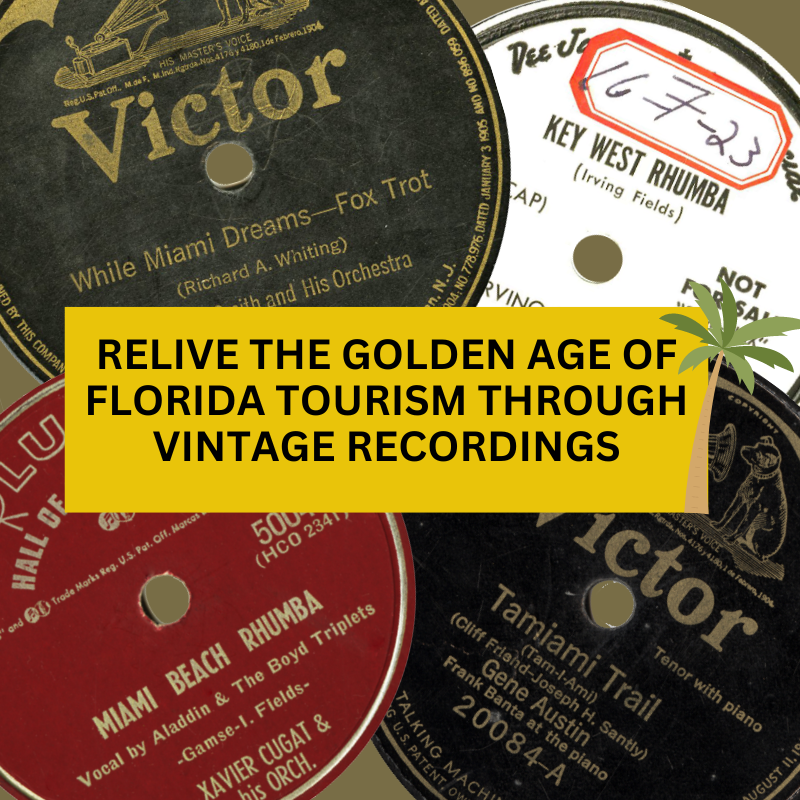 We're excited to share with you our latest collection of vintage Florida recordings! If you're looking for a way to transport yourself to the sunshine state this summer, this is the perfect opportunity. With over 13 recordings featuring the state itself and various cities within it. You're sure to find something that captures the essence of Florida. Whether you're a longtime resident or a first-time visitor, these recordings will allow you to experience Florida in a whole new way. So, sit back, relax, and let the sounds of Florida transport you to a time gone by. Close your eyes and let your imagination take you on a journey through the Sunshine State. Imagine if you will the gentle rustling of palm trees, the distant sound of waves crashing against the shore, and the chirping of tropical birds to transport you from your current location to Florida!
Relive the Golden Age of Florida Tourism Through Vintage Recordings
Here are just a few of our favorite recordings from this collection.
Check out our website to relive the golden age of Florida Tourism through vintage recordings and discover the entire collection of Florida recordings within the Recorded Sound Archives.
Be sure to follow us on Instagram and Facebook to keep up with what's new at the RSA!
Please note, due to copyright some items may only be available as a 45 second snippet.
If you are a researcher or educator in need of full access to these recordings, you can apply for Research Station Access
FAU Students, Faculty and Staff can listen to recordings unrestricted by clicking the Research Station icon located in the upper right corner of the website logging in using their FAU NET ID and password.