December 29, 2009:  The large donation of recordings to FAU Libraries from Jack Saul's private collection sparked interest in the Judaica Sound Archives and resulted in the following  newspaper article by Lona O'Connor, Palm Beach Post Staff Writer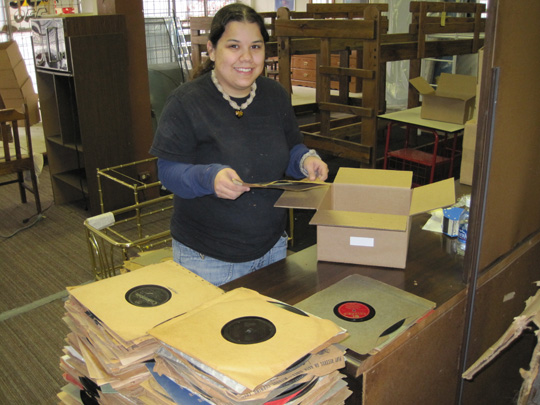 The Judaica Sound Archive is accustomed to receiving large donations of old recordings. But its latest bequest — 10,000 records — arrived in an 18-wheel trailer truck.
The 7-year-old musical archive, part of Florida Atlantic University's library, has a lot of cataloging to do in the next few months, because another 18-wheeler will arrive as soon as the snow melts . It will carry at least twice as many recordings — all from the late Jack Saul, a Cleveland furniture store owner whose collection may have amounted to as many as 300,000 recordings at its peak.
The Saul contribution will add about 60,000 recordings, including a few unique examples, to the FAU archive, already one of the largest in the world.
The sound archive is run by Nat Tinanoff and Maxine Schackman, who, aided by tech-savvy volunteers and students, have made 10,000 songs from the archive's collection available online to the public. The archive contains religious, folk and children's music, theater and music-hall performances. Click here for full text.
December 31, 2009:  The following editorial in the Palm Beach Post explains the importance of the work that is being done by the Judaica Sound Archives.
In the larger scheme of things, the dedication of the employees of the Judaica Sound Archive at Florida Atlantic University isn't earth-shattering. It doesn't change Florida, the way oil drilling off the coast would. It doesn't build houses or end foreclosures or reinvigorate the economy.
But it alters Florida just the same, adding a twist of culture to a state that too often is criticized for sterile shopping malls, cookie-cutter houses and cultural voids.
We mention the dedication of employees Nat Tinanoff and Maxine Schackman, aided by volunteers and students, because it was their dedication that persuaded a Cleveland furniture store owner and record-collector extraordinaire to donate to the archives 60,000 record albums for preservation. As The Post's Lona O'Connor reported Wednesday, thanks to these workers, the mountain of wax recordings preserving the music of the past will be catalogued and digitized so that they can remain far into the future.
Jack Saul, who died in May at 86, picked FAU's sound archive specifically because he saw that it would preserve his collection. He once had been burned, giving away 200,000 recordings to an organization that later sold them. Mr. Tinanoff estimates that it will take five years to inventory Mr. Saul's collection. He expects to make 4,000 compact discs available to students. The collection includes an album of Fanny Brice singing to children and a fantasy cantata about the Brooklyn Dodgers by opera singer Robert Merrill.
It's a cultural bonus Florida would not have, if not for the dedication of the Judaica Sound Archive's employees. Click here for full text.
January 6, 2010: The Jewish Forward recognized the importance of recorded Jewish music for musicians and others who cherish Jewish culture in this article by Ezra Glinter.
It's a truism of traditional music that in order to go forward, you have to go back. To innovate on old material, you have to know the old material in the first place.
But in the case of Yiddish music, there's often not much to go back to. During the heyday of Yiddish culture in the late 19th and early 20th centuries, klezmer melodies, Yiddish theater tunes and cantorial music were popular entertainments for Jews from Warsaw to New York. But with the Holocaust in Europe and the rapid assimilation of Jewish immigrants in America, that culture went away as quickly as it had come. For musicians today who want to learn the Yiddish repertoire, finding a living link to that centuries-old musical tradition is nearly impossible.
But there is another way. Between 1898 and 1942, some 6,000 78-rpm recordings of Jewish music were produced in the United States, and some 5,000 in Europe. When Jewish musicians in the 1970s revived the Yiddish music that had largely disappeared after the Second World War, it was to those recordings that they turned.
"If it weren't for these historic recordings, there wouldn't have been a klezmer revival," said producer Henry Sapoznik, executive director of Living Traditions, a Yiddish arts organization that produces the annual weeklong KlezKamp in Kerhonkson, N.Y. "Of every traditional music scene, whether it's Balkan or Greek or blues or early jazz, the only one that relied completely on using 78s as a style and repertoire model was the klezmer scene. . . . "
Florida Atlantic University's Judaica Sound Archives has been collecting Jewish music of all kinds since 2002, and provides much of it in streaming format on its Web site and more through research stations located in libraries throughout the United States, Canada, Israel and the United Kingdom. Click here for full text.
By