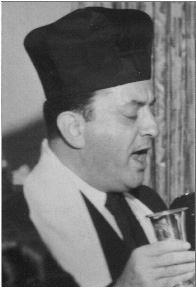 Leib Glantz lived in the United States from 1926 until he fulfilled his dream of moving to Israel in 1954. He was the last, and perhaps the greatest cantor of the "Golden Age of Chazanut."
The quality of his musical education, his penetrating knowledge of the Hebrew language, and his deep philosophical religiosity, enabled him to create musical interpretations of the prayers that brought new light and meaning to every word. The words he sang seemed destined to rise like angels into the heavens. To listen to him was like witnessing a man speaking to God! He had a voice that sang like no other voice. Many cantors have tried to imitate his singing, but few have felt they have succeeded.
Glantz combined his cantorial with fervent and tireless Zionist activism. He edited a Zionist newspaper and became a leader in the Zionist movement in Eastern Europe, in the United States, and lastly, in Israel, fulfilling his lifelong dream.
Leib Glantz was one of the greatest scholars of the origins of Jewish music. His research and the theories he developed firmly established the historical continuity of Jewish music from its beginnings in the Holy Temples of Jerusalem to this very day. He founded an Academy for Cantors in the Tel Aviv Institute for Jewish Liturgical Music.
Full biography and more photos | From Archives to Synagogue
The rights to the recorded music, printed music, and writings of Cantor Leib Glantz are copyrighted.
For permission to reproduce, contact: Ezra & Kalman Glantz JGPacific@gmail.com