Valentine's Day is certainly not a Jewish holiday.  But who says Jews can't celebrate love?
The Yiddish word, beshert, can refer to any kind of fortuitous good match, such as finding the perfect job or the perfect house, but usually it refers to a perfect romantic match. Beshert brings people together no matter what obstacles might stand in the way.  "If it is meant to be, it will be."
Chuck and Gloria connected romantically back in the early 1960s, after her first husband passed away.  They dated, they married.  But the time was not right for these two to live happily ever after. After five years they divorced and lost contact with each other.
But when two people share a destiny they will find a way to reconnect with each other, even after many years. Chuck's father was a pioneer in Jewish comedy back in the 1930s. Known professionally as Benny Bell, he was a celebrity in Jewish circles.
When Gloria's third husband passed away a few years ago she became interested in reconnecting with friends from her past. She especially wanted to reconnect with Chuck. Unfortunately, she had no idea how to find him.
Many times she sat at her computer and typed the name "Charles Samberg" into the Google bar only to be disappointed by the lack of results.  Then one day she typed in the name "Chuck Samberg."  This time she got a link to FAU's Judaica Sound Archives.
Her curiosity aroused, she decided to follow the link which led to one of the happiest surprises of her life!  What she found on the JSA website was 19 comedy albums by Benny Bell.  As she listened it brought back many memories of her childhood. And then she went to the Benny Bell biography page. And there, at the bottom of the page was a way to reconnect with her past. She couldn't believe her eyes.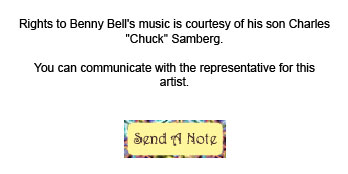 She sent a note. Now the two are reunited and enjoying every moment of it, looking back at the past with nostalgia, looking towards the future with joyful thoughts. "We're very happy!" Gloria to me.
For more information about Benny Bell click here.
By