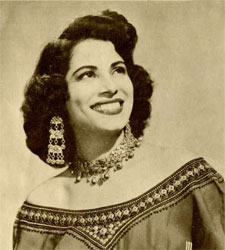 Born in Yemen, Shoshana Damari was brought to Palestine by her parents as a toddler. While still a child she joined her mother as they entertained at family gatherings and community events. By the age of 14 she was already performing regularly on the radio.
Her exotic beauty, along with her distinctive husky voice and Yemenite accent brought a uniquely Middle Eastern flavor to mainstream Israeli music which had previously been totally dominated by Eastern European influences. During the fight for Israeli independence she frequently performed for the troops. Her inspiring renditions of fighting songs made her a favorite of Israeli soldiers. She became especially well-known for her association with Israeli composer, Moshe Wilensky.
When she died the Knesset released a statement that, "Her voice [had] unified the whole nation and spread optimism and hope."
During her first American concert tour in 1949 she recorded Voice of Israel, an album of her favorite concert numbers. This album along with several live performances recorded from Vistas of Israel radio broadcasts comprise the JSA's online collection of recordings by Shoshana Damari.
Music in this collection courtesy of Shoulsong for Voice of Israel. All other recordings courtesy of Vistas of Israel.