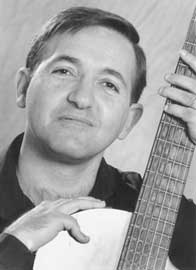 Cantor Dr. Ramon Tasat learned Ladino, the language of the Sephardic people, at his grandmother's knee. His style reflects the rich history and drama of this extraordinary culture.
Trained in five different countries, he received a doctorate in voice performance from the University of Texas at Austin. His doctoral dissertation is entitled "The Cantillations and Religious Poems of the Jews of Tangier, Morocco."
Dr. Tasat has drawn worldwide acclaim from both music critics and audiences, appearing in numerous opera productions such as "Le Nozze di Figaro, Impressario, and La Traviata. After hearing him sing at the Cantata Ebraica concert Rabbi Samuel Weintraub remarked, "Ramon Tasat is a gem. He sings with passion and true bel canto technique. I was also impressed by the seamless weaving of the operatic and Jewish liturgical traditions."
Cantor Tasat has toured Europe with world-renowned Dr. Robert Shaw and has participated in international festivals on both sides of the Atlantic. His most notable appearances include the Kennedy Center Concert Hall; the Israeli Embassy; the Jewish Music Festival of Berkeley, California; The Limmud Conference in the UK, Saint Cere, France; Siena, Italy; Helsinki, Finland; Barcelona, Spain; and the Piccolo Spoleto Festival.
Dr. Tasat has been the recipient of numerous awards including First Place at the Montpelier Cultural Arts Center's Recital Competition and a National Endowment of the Arts Grant. Dr. Tasat's lectures, workshops, and published books on music subjects, in addition to his television and radio appearances, have earned him great respect among his peers.
Hazzan Dr. Ramon Tasat is the Hazzan of Shirat HaNefesh (Song of the Soul), an emerging Jewish congregation in southern Montgomery County, MD. He is also the president of Shalshelet: The Foundation for New Jewish Liturgical Music.
The JSA does not sell CDs. This performer's music is available for purchase at: www.ramontasat.com


Music in this collection courtesy of Cantor Ramón Tasat.