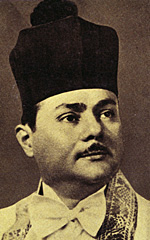 The name of Cantor Moshe Koussevitzky can be placed along side Cantor Yossele Rosenblatt, Cantor Gerson Sirota, and Cantor Zawel Kwartin — the most honored names from the Golden Age of Cantorial music. This online selection of recordings by Cantor Moshe Koussevitzky has been created from the JSA's Collectors Guild and Famous record label collections.
Born into a family of hazzans in Belarus, Moshe Koussevitzky's special gifts became obvious when he began singing in synagogue choirs as a young boy. In 1914, with the outbreak of WW I, a teen-age Moshe moved with his family to Russia where his studies continued with Cantor Eliyahu Salutkowsky. In Vilna, Poland, a few years later, his talents could be heard at the Sawel Synagogue and, in 1925, at the Great Synagogue. Koussevitzky was awarded the coveted position at the Tlomacki Synagogue of Warsaw, which was vacated by the renowned great Cantor Gerson Sirota (1928).
According to Benedict Stambler's album cover notes, it was in Warsaw that "his voice reached its full power and brilliance." It was, therefore, no surprise that his talents were in great demand. He performed throughout Europe and in Palestine between 1935 and 1939, becoming especially popular in England.
Rescued by members of the Polish underground and brought to Russia, he was reunited with his family soon afterward. He performed opera and liturgical music throughout Russia, travelling ever eastward to escape the war. After the German retreat he became the principal tenor in the Tiflis National Opera Company (Georgia), where he sang from 1944 to 1946. The four Koussevitzky brothers (all talented cantors), reunited in London in 1946, gave a stirring farewell appearance at the Royal Albert Hall before an audience of ten thousand.
Benedict Stambler writes of Koussevitzky's entrance into the USA, "His miraculous survival through the bitter war years enlisted great waves of sympathy; he was met at the pier by a tumultuous crowd and his first cantorial appearance drew throngs of emotional worshippers." His sold-out New York debut at Carnegie Hall in October, 1947, prompted the New York Times critic to write, "One of the outstanding voices of our time....it could hardly be over-praised."
We are fortunate that Cantor Moshe Koussevitzky had a long recording history: recordings for the Syrena, Parlophon, and Cristal labels in Europe during the 1920s and 1930s; RCA Victor from 1947 to 1952; and Famous Records from 1959 to 1966. This online collection presents twelve albums including some of his earliest recordings.
Music of Cantor Moshe Koussevitzky courtesy of Collectors Guild and Famous Records.