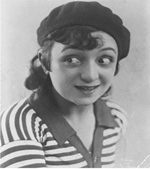 She was an actress, singer, and comedian whose career spanned over 70 years. Debuting in the Yiddish Theater at the age of 6 she emerged as a respected American actress, performing with Frank Sinatra in Come Blow Your Horn (1963), and having starring roles on Broadway in Milk & Honey (1961) and the film, Fiddler on the Roof (1971).

Molly Picon's career followed Yiddish culture from the shtetl into mainstream America. Small and very youthful-looking she often had to fight to be taken seriously. She wore male clothing as a disguise through most of her breakout performance in Yidl Mit'n Fidl (1936) and many of her other early roles, including the well-known "Yankele." In today's world she might be considered to be a voice for women's rights.
The Judaica Sound Archives at FAU Libraries honors the work and life of Molly Picon. The JSA Molly Picon Sound Collection contains over 60 of her earliest recordings and four of her later LP albums.
Music in this collection courtesy of Collector's Guild & Musique Internationale.