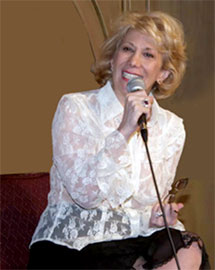 Marilyn Michaels, born Marilyn Sternberg (1943), is the daughter of Harold Sternberg (Metropolitan Opera singer) and Fraydele Oysher (star of Yiddish theater). She began her career singing with her mother when she was only seven years old. It is probably not surprising that Marilyn showed her singing talents early, since she came from a family of cantors going back seven generations. Her uncle was the legendary, Moishe Oysher, often known as the "Master Singer of his People."
Marilyn's rich family musical heritage, in addition to her own unique talents, has resulted in award-winning performances. She gained recognition for her starring role as Fanny Brice in the National Touring Company's "Funny Girl," and also for her performances in the Emmy-winning television series, "The Kopykats," which aired on ABC in 1972 and was the forerunner of the parody skits later seen on "Saturday Night Live."
Over the years Marilyn Michaels has performed on numerous TV variety and talk shows including "The Ed Sullivan Show," "The Dean Martin Show," "The Today Show," "The Tonight Show," "The Howard Stern Show," and "Hollywood Squares."
A multi-talented performer, Marilyn sings in five different languages. Known as "the woman of a thousand faces and voices," she won rave reviews in "Catskills on Broadway" in 1991, for her spot-on impersonations of Barbra Streisand, Ethel Merman and Judy Garland, among others.
The JSA does not sell CDs. This performer's music is available
for purchase at: www.marilynmichaels.com
Music in this collection courtesy of Marilyn Michaels.