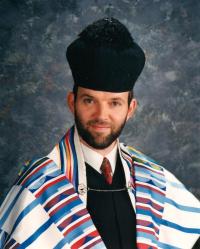 Born in Montreal, Canada, Cantor Sidney Dworkin has been singing professionally for over 30 years. He received his primary vocal technique and training from Madame Fanny Levitan and earned a Bachelor of Music from McGill University, majoring in voice, violin, and music education. Additionally, Cantor Dworkin holds a Masters Degree in social work from McGill.
An active concert and recording artist Cantor Dworkin's initial inspiration and grounding in Chazanut came from the late Cantor Joshua H. Rosenzweig.
It should be no surprise that Cantor Dworkin is especially drawn to the music of the immortal Cantor Leib Glantz. The character of Cantor Dworkin's voice lends itself beautifully to the lyricism and intricate movements of Glantz's compositions. He has a well-earned reputation as one of the finest interpreters of Glantz's works and has been included in the Cantor Glantz biography, The Man Who Spoke to G-d.
Since June 2007, Cantor Dworkin has produced and hosted Cantor's Corner, a popular radio show on Radio Shalom (1650 AM) in Montreal.
Music of this collection courtesy of Sidney Dworkin.