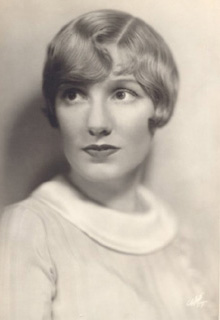 MARION HARRIS was an American popular singer, most successful in the 1920s. She was the first widely known white singer to sing jazz and blues songs.
Born Mary Ellen Harrison, probably in Indiana, she first played vaudeville and movie theaters in Chicago around 1914. Dancer Vernon Castle introduced her to the theater community in New York, where she debuted in a 1915 Irving Berlin revue, Stop! Look! Listen!
In 1916, she began recording for Victor Records, singing a variety of songs, such as "Everybody's Crazy 'bout the Doggone Blues, But I'm Happy", "After You've Gone", "A Good Man Is Hard to Find" later recorded by Bessie Smith.
Wikipedia contributors. "Marion Harris." Wikipedia, The Free Encyclopedia. Wikipedia, The Free Encyclopedia, 3 Jan. 2017. Web. 26 Jan. 2017.