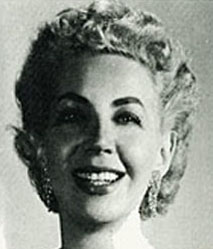 Lillian Lux Burstein entered Yiddish theater in New York City at the age of six under the direction of renowned actor and producer Maurice Schwartz. By the time she was 17, she was playing the Catskills in summer stock as a partner to Danny Kaye. That's when she met Pesach Burstein who was already an established star and 22 years her senior. He was looking for an actress for his Yiddish acting troupe's South American tour. She became his leading lady and, in 1938, his wife.
Among her most famous roles was Feygele, in the operetta A Khasene in Shtetl (A Village Wedding), playing opposite her husband. In the 1940s, Lillian had her own Yiddish-language radio show on WEVD-AM in New York. After the birth of twins, Mike and Susan in 1945, Pesach and Lillian performed as a family act known as The Four Bursteins. But as the American Yiddish theater audience dwindled in the 1950s, the family looked toward Israel. By the early 1960s, their Purim show "The Megilla" had become an Israeli national sensation.
Lillian wrote her husband's dictated autobiography, Geshpilt a Lebn (Life Upon the Yiddish Stage) which was published in Yiddish just six years before his death. The English translation of this memoir What a Life! The Autobiography of Pesach'ke Burstein, Yiddish Matinee Idol was edited by Gershon Freidlin and published by Syracuse University Press in 2003.
After his death in 1986, Lillian appeared in a movie with Antonio Banderas and on TV. A documentary of the Burstein Family's life, The Komediant (now on DVD) received rave reviews and won the Israeli equivalent of the Oscar for the best documentary of 1999. Directed by Arnon Goldfinger, the film is narrated by Lillian Lux and premiered in the US in 2002.
Music in this collection courtesy of Mike Burstyn.