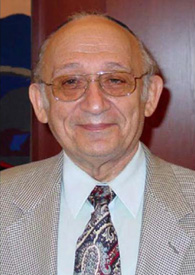 Cantor Joseph Gross was a graduate of the Rabbi Jacob Joseph School in New York City. He attended Yeshiva University and the Mirrer Yeshiva in Brooklyn. He continued his music training at the Third Street Music Settlement School in NYC, McGill University's Faculty of Music in Montreal and Concordia University in Montreal.
Cantor Gross officiated as Cantor at the Lincoln Park Jewish Center in Yonkers, N.Y., followed by five years at the Concourse Centre of Israel in the Bronx before coming to Congregation Shaar Hashomayim (Montreal) in 1973. While in Montreal, he served as President of the Council of Hazzanim of Greater Montreal.
Cantor Gross has also distinguished himself as a composer. Many of his cantorial pieces continue to be sung at Congregation Shaar Hashomayim to this day. His best-known composition, "Ani Ma'amin" (I Believe), has become a Cantorial favorite around the world.
A warm and gentle man with a generous spirit, it is, perhaps, not surprising that Cantor Gross has been a distinguished Cantorial mentor and that he has often been sought out by young Cantors looking to learn from a master.
In 1987, Cantor Gross accepted a position at the Hallandale Jewish Center, in Hallandale, Florida, where he served for 26 years.
Rights to the recordings in this collection courtesy of Cantor Joseph Gross.