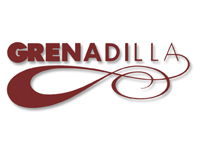 Grenadilla, established in 1972, produced modern classical music often featuring Israeli composers and American musicians. All of the recordings in this website collection were created between 1972 and 1980.
Richard Gilbert, Grenadilla's founder and primary producer, credits the good will and mentorship from Horace Grenell of the Desto label as being critical in the early years. "Horace's knowledge of the industry was an invaluable resource for me. A number of Horace's master recordings passed on to Grenadilla when he retired. Many of Horace's connections became my connections."
Born and raised in the Bronx and Bayside, New York, Gilbert began studying the clarinet at the age of eleven. He is an alumnus of the Peabody Conservatory and Hofstra University. He also attended NYU's Graduate School of Arts and Sciences. He debuted at Carnegie Recital Hall in New York in 1984.
When asked about his career as a record producer, he said, "Knowing that you really only get one chance to get the recording right I always strove to get the best out of the artists and the engineer. The individuality of each artist was one of my primary concerns. I am delighted to say that through the years we have received almost universal acclaim."
Rights to the recordings in this collection courtesy of Grenadilla: www.grenadillamusic.com/