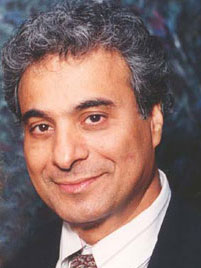 Chaim Parchi is a man of many talents whose success had spanned the areas of art, composing, teaching and performing. Coming from a family of Hebrew scribes, artistic talent probably runs in his veins. His interest in Hebrew calligraphy and naïve art have combined to create a unique and vibrant artistic style with a heavy emphasis on Jewish subject matter.
Parchi's music finds its roots in both the Sephardic and Ashkenazic traditions. As with his art, Parchi's music is imbued with a love of Israel and the history of the Jewish people.
In 1979, Chaim Parchi and his family left Israel so that he could continue his graduate studies at Boston University in Massachusetts. He later became the Music Director of the Solomon Schechter Day School and began performing and recording Israeli and ethnic Jewish music publicly.
Relocating to Boca Raton, Florida, in 1995, he taught music and art at Broward Jewish High School, B'nai Torah High School and Hillel Community Day School.
The JSA does not sell CDs. This performer's music is available for purchase at: www.artmuz.com
Music in this collection courtesy of Chaim Parchi.