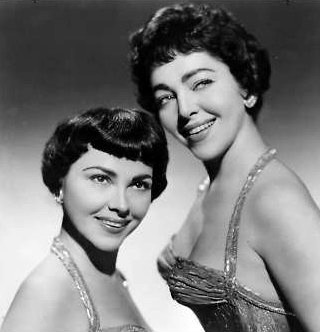 Merna and Claire Barry were born in the Bronx, New York to Ashkenazi Jewish parents, Herman and Ester, from Russia and Austria, respectively. The young girls got their first break as singers on WLTH Radio's "Uncle Norman" show for children and were originally billed as The Bagelman Sisters. They made their first recordings with Victor Records in the late 1930s, making a name for themselves as Yiddish jazz singers.
When the Andrews Sisters' version of "Bei Mir Bist Du Schön" became a hit, musician and composer Sam Medoff, also known as Dick Manning, started his "Yiddish Melodies in Swing" radio program on New York's WHN. Before joining the radio show, the sisters changed their stage name to the Barry Sisters.
From 1939 until the mid-1950s they performed on the program, where they would sing jazz recordings in Yiddish. Their recordings included popular tunes, such as "Rain Drops Keep Falling on My Head" translated into Yiddish ("Trop'ns Fin Regen Oif Mein Kop").
They also performed in New York's Catskill Mountains resort hotels. They eventually toured with Mickey Katz. During the height of their popularity, they made appearances on the Ed Sullivan and Jack Paar TV shows and were chosen as one of the few American acts to tour the Soviet Union in 1959. The sisters also entertained Israeli troops during the Yom Kippur War. The Barry Sisters did not come from the Old World tradition of Second Avenue Theater. Instead they looked glamorous and used modern orchestrations for their music.