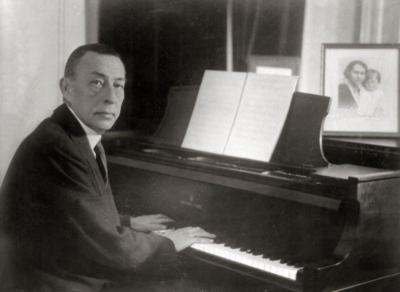 SERGEY VASILYEVICH RACHMANINOV (Sergei Rachmaninoff) was born on April 1, 1873 near Novgorod, Russia. Today he is remembered as one of the greatest piano, symphonic, and vocal composers of the late Romantic period and the early 20th century. Rachmaninov came from a land owning, aristocratic family. Rachmaninov's mother initiated the composer's innate musical talent by giving him his first piano lessons at age 4. Due to financial pressures, the Rachmaninovs were forced to relocate to St. Petersburg. In St. Petersburg, Rachmaninov began studying music at the conservatory and later moved on to the Moscow Conservatory where he studied with Zverev, Siloti, and Arensky.
Rachmaninov received encouragement from Tchaikovsky and received the conservatory gold medal for his opera Aleko (1892). Despite this promising beginning, Rachmaninov experienced many challenges in his career. For one his Symphony no. 1 was received very poorly after the conductor, Glazunov, came to the premiere intoxicated. One critic described Symphony no. 1 as a piece fitting the conservatory in hell. The cold reception of his first symphony and the church's opposition of his marriage to Natalia Satina plunged Rachmaninov into a 4-year period of depression and writer's block. With support from his friends and multiple sessions of psychotherapy, Rachmaninov overcame his writer's block and composed one of his most popular pieces, Concerto no. 2, in 1901. Rachmaninov married Satina in 1902 and the two later had two daughters. The first decade of the 20th century was very fruitful for Rachmaninov. It was during this time that he composed such masterpieces as Symphony no. 2, Isle of the Dead, and Piano Concerto no. 3.
Following the Russian Revolution of 1917 and the loss of his estate, Rachmaninov and his family first emigrated to Scandinavia, and later to the United States. In America, Rachmaninov settled in New York, reinventing himself as a concert pianist, he signed a contract with Victor Talking Machine Company, and befriended renowned pianist Vladimir Horowitz. Due to his demanding concert schedule, Rachmaninov was not able to compose as prolifically as before. His last notable works were Rhapsody on a Theme by Paganini, Symphony no. 3. (1935), and Symphonic Dances (1940). Over the next few years, Rachmaninov fell increasingly ill. In 1942, he was diagnosed with a melanoma. Rachmaninov died an American citizen on March 28, 1943.