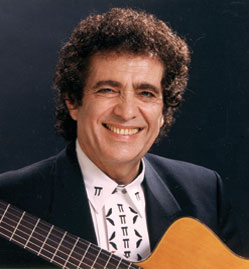 Ron Eliran, known to some as "Israel's Ambassador of Song," is a one-man show who combines Israeli traditional music with international and contemporary sounds. He is the recipient of the "Violin of David Award" (Israel's equivalent of the Oscar and Grammy combined) for his hit song Sharm-El-Sheikh (1967).
Ron Eliran has toured extensively throughout the world, performing in a variety of languages. He has captivated audiences on Israeli and American TV as well as in live performances in New York's Carnegie Hall, in Washington's Kennedy Center, in London's Albert Hall, in Montreal's Place des Arts, and in Los Angeles' Music Center.
A very youthful Ron Eliran appeared on the Ed Sullivan Show in 1958 to rave reviews. He continued to work in New York clubs while he earned a B.S. degree in TV and Motion Picture Directing from New York University.
Eliran starred in two Broadway shows for which he wrote both the lyrics and the music: "Don't Step On My Olive Branch," (1976) and "Nightsong."
In the wake of Prime Minister Yitzhak Rabin's assassination in 1995, Eliran, together with Gad Yaccoby, then Israel's UN Ambassador, wrote a song about the late Prime Minister's life. Eliran performed his poignant song in front of a crowd of 200,000 people at "Rabin Square" in Tel Aviv as part of a live nationally televised tribute for the fallen leader.
In 1997 he performed in Basel, Switzerland, at the Centennial celebration of the First Zionist Congress. His performance took place in the same hall where Theodor Herzl first prophesied the birth of the Jewish State exactly 100 years before. There he performed a tribute to Herzl and the Zionist saga, singing his own composition, "If You Will It," accompanied by the Basel Symphony Orchestra. In 1999 he was a guest performer at the "Budapest Festival of Freedom," where his original composition became the festival's official song.
The distinctive voice of Ron Eliran brings his cultural roots to life with love, nostalgia, humor and showmanship.
The JSA does not sell CDs. This performer's music is available for purchase at: www.raneliran.com
Music in this collection courtesy of Ron Eliran.