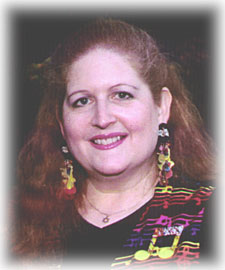 Judy Caplan Ginsburgh is a professional singer with a degree in Vocal Performance from the Indiana University School of Music. She is a nationally recognized and multi-award winning performer, recording artist and educator. Judy sings as a cantorial soloist and travels throughout North America presenting concerts, residencies, educational keynotes and workshops. Judy works actively in both Jewish and non-Jewish settings and she has developed a number of interactive, educational performances and arts-in-education residencies for school-age children.
Judy has been producing excellent quality, educational recordings for families since 1981. Her award-winning, best-selling recordings for Jewish families feature familiar songs which have been sung for years in Jewish schools and homes. Her interactive and educational recordings of music for general audiences have received the highest praises from teachers and parents around the globe.
Judy has recently taken a position as Executive Director of Central Louisiana Arts & Healthcare, Inc. In this position, she works with hospital facilities in her region to bring the arts in all their forms to patients and their families.
The JSA does not sell CDs. This performer's music is available for purchase at: www.judymusic.com
Music in this collection courtesy of Judy Caplan Ginsburgh.