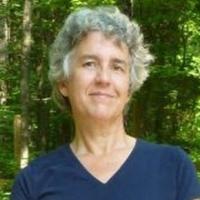 Jane Peppler graduated from Yale University with a degree in Russian language and literature. A violinist in the Yale School of Music orchestra and the Yale Symphony orchestra she also played in the Locrian String Quartet after graduation.
A long-time music director of the Cantor Corps at Judea Reform Congregation in Durham, NC, she also directed the Triangle Jewish Chorale in that city for fourteen years.
Her work as director of the Solstice Assembly was featured on NPR's Weekend Edition. Let Memory Keep Us All: The Solstice Assembly Songbook (available on Amazon) features arrangements, mostly by Peppler, of the early music of the British Isles.
Peppler is a passionate researcher who derives pleasure in finding obscure and lost music. For three years she investigated Itzik Zhelonek who bought and sold books and records in a Warsaw flea market in the years between the two world wars. He also printed tiny books of lyrics of the most loved Yiddish theater songs of his day. Beloved by cosmopolitan Yiddish-speaking Jews before the Holocaust, only a few survived in the post-Holocaust world. These droll, sly, sweet, and poignant songs are now part of her book: Yiddish Songs from Warsaw 1939-1934.
The RSA is proud and pleased to be able to share Jane Peppler's three CDs featuring these once-lost songs from Zhelonek's collection. The multi-talented Peppler is not only a dedicated scholar, she is also an accomplished performer, business woman (has her own record label), and artist (beautiful record covers are her work).
She studies Yiddish with Professor Sheva Zucker and has translated three novels by Jacob Dineson, articles and songs.
Music available for sale: http://skylark2.com