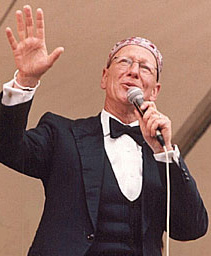 Gadi Elon's father was a Ba'al Tefilah (Chazan) with strong ties to the Vishnitzer Chassidim. His own career as an interpreter of Jewish music began as a young boy in Haifa with TZAHAL's famed Rabbi's Choir. Expanding his craft as a singer, actor and comedian while in the military service, he performed with one of Israel's Armed Forces Entertainment Troupes. During and after the Six-Day War he was often called upon to perform for the just-wounded in locations as diverse as the Sinai Desert and the Golan Heights.
Gadi became a leading member in the well-known "Haifa Theatre" where he was seen in diverse dramatic productions, from Shakespeare's "Richard the Third" to starring as Uri in Moshe Shamir's "He walked through the Fields."
Leaving Israel in 1969, he eventually made his way to New York where he performed for the Israeli government tourist office. During these years Gadi entertained audiences at the Chassidic Festival, Madison Square Garden, The Garden State Art Center in New Jersey, Caesar's Palace in Las Vegas, and in major cities throughout the United States, Canada and Australia.
Cantor Elon has served congregations in Pensacola, FL; Amherst, MA; Bayonne, NJ; The Greenberg Hebrew Center in Dobbs Ferry, NY; Hillcrest, NY; and The Oceanside Jewish Center in Oceanside, NY.
Music of this collection, courtesy of Gadi Elon.