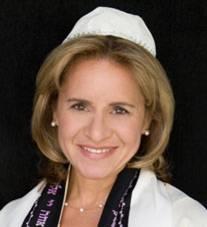 Cantor Deborah Katchko-Gray grew up in a distinguished family of cantors. She studied with her father, Cantor Theodore Katchko (of blessed memory) and with several mentors, including Elie Wiesel. She is a fourth generation cantor and the second female cantor in the country to serve a conservative synagogue. At Boston University, Prof. Elie Wiesel encouraged her to continue in this family tradition.
Deborah founded the Women Cantors' Network in 1982. Since 1999, Deborah has served Temple Shearith Israel in Ridgefield, CT, and is active in the greater community. She has developed musical and educational programs for National Hadassah, UJC Speakers Bureau, CAJE, Chautauqua Institution, and the Wexner Foundation. She was selected as a Teaching Artist for the Connecticut Commission on the Arts.
Her recordings include "Kindersongs," "Jewish Soul" and "A Sacred Spirit." The Cantors Assembly included her recordings in the "Spirit of Israel," "Spirit of Hanukkah" and "Spirit of the Jewish Wedding" album series. Her rendition of "Jerusalem of Gold" was selected for The International Jewish Songbook recording. Her music is heard on Jewish radio stations throughout the country.
Deborah was invited to sing at the Tzipora Children's Music Festival in County Kildare, Ireland, in 2006. This music festival reaches several hundred children and is particularly meaningful to her since it is in memory of Elie Wiesel's youngest sister, Tzipora.
Her warm personal relationship with Elie Wiesel and his great respect for her artistry is reflected in these words that he said about her. "Both perceptive and sensitive, Debbie is well equipped to translate Jewish experience in song and prayer. This she will do with grace and passion. Debbie will enable you to hear and feel the exquisite yet melancholy beauty of Jewish melodies that must never be forgotten."
The JSA does not sell CDs. This performer's music is available for purchase at: www.cantordebbie.com
Music in this collection courtesy of Cantor Deborah Katchko-Gray.