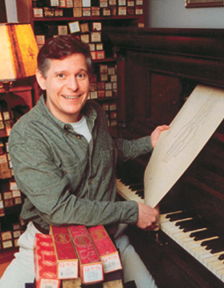 In 1975, when Bob Berkman was hired by QRS, the world's last remaining piano roll manufacturer, he could not have imagined what lay in store for him. Over the next 30 years he produced innumerable reissues of historic piano roll recordings. His credits include rolls commissioned for the films Ragtime, The Best Little Whorehouse In Texas, and Reds, the last in cooperation with composer Stephen Sondheim. He has appeared on NPR, BBC, and CBS Sunday Morning.
However, it was his discoveries of Jewish music on piano rolls that has produced some of his most intriguing and original performances. This incredibly rare material evokes an often forgotten but delightful corner of Yiddish culture in America.
Using a 1912 "push-up" portable Pianola, Berkman effectively turns any piano into a player piano allowing him to perform in venues all across America. In great demand as a speaker and performer, it is his unique and deeply personal work with Jewish rolls that has been most gratifying and which brought him to the attention of klezmer fans. His important discovery of George Gershwin's only Jewish roll and the haunting A Gitte Nacht by the obscure Samuel Perlstein are among his accomplishments. When Berkman debuted at KlezKamp several years ago, an impressed Henry Sapoznik wrote to him saying, "[We ] were thunderstruck by the scope and depth of your work."
Music in this collection courtesy of Bob Berkman.