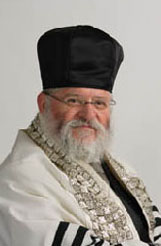 Cantor Benzion Miller's father, grandfather and great-grandfather were all cantors at the courts of the Bobover rebbes. Shortly after World War II, Benzion's father, Cantor Aaron Miller, was sent to a displaced persons camp in Munich. His wife and children had been killed in German concentration camps. It was there, awaiting patriation, that Cantor Aaron Miller met and married Benzion's mother, a survivor from the Belzer Hassidic sect.
The couple eventually moved to Brooklyn, New York where a young Benzion Miller studied at Bobover Yeshivot before going to Israel. In Israel, his cantorial gifts became obvious and he began to study with the well-known Cantor Shmuel Taube. He was also able to benefit from the influence of the many accomplished hazzanim who had come from Europe to Israel (Palestine) as refugees. It was during this time that his brilliant tenor voice and astonishing vocal technique came into full flower.
Benzion Miller began his career as cantor of the Hillside Jewish Center in Hillside, New Jersey. Subsequently he held positions in the Bronx, Montreal and Toronto. He has been resident cantor at Brooklyn's Young Israel/Beth-El of Boro Park since 1981. Once dubbed "The Carnegie Hall of Brooklyn," Beth El in the early 20th century was home to legendary cantors such as Koussevitsky and Hershman. Cantor Miller has an exceptionally busy concert schedule, performing in Europe, Africa, South America and Israel, as well as throughout the USA. His soaring tenor voice is featured on best-selling CD's from the Milken Archives and in the PBS special "Cantors: A Faith in Song."

Music in this collection courtesy of Cantor Benzion Miller.