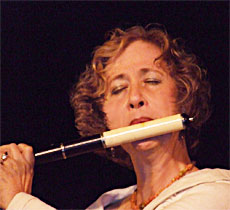 Adrianne Greenbaum is a nationally acclaimed klezmer and classical flutist. She is the founder and leader of "FleytMuzik," an ensemble with flute, violin, cimbalom and bass, and of "The Klezical Tradition" klezmer band where she performs on both flute and keyboard and leads Yiddish dance. She has been on the faculties of Living Traditions' KlezKamp, KlezKanada, and Boxwood, was a premier participant with FleytMuzik at the KlezMore Festival in Vienna, and presents master classes in the art of klezmer performance to classical flutists.
Her interest in sharing klezmer music with young people of all ages and backgrounds is expressed through her school workshops and the three student klezmer ensembles which she directs in Connecticut and Massachusetts. "The Klezical Tradition" has won many awards for its recording, Family Portrait. The band was also chosen to be included as a feature in the ABC-TV documentary "A Sacred Noise: The New Jewish Music."

Greenberg also has a stellar classical music background. She has held faculty positions at Wesleyan and Yale Universities, at Smith College, and is currently Associate Professor of flute at Mount Holyoke College. She has appeared with such orchestras as New York's Mostly Mozart Festival (as soloist), the Berlin Ballet at the Met (as principal flutist), the Period Orchestra of the Fairfield Academy, and for many years performed with the New York City Ballet Orchestra. Currently she is Solo Flutist with the New Haven Symphony, the Wall Street Chamber Players, and Orchestra New England.

Music in this collection courtesy of Adrianne Greenbaum.