How Can I Help?
A few hours a week can make a huge impact on our ability to process the music in a timely manner.
Some of the ways that volunteers have helped in the past...
unpacking new shipments of recordings as they arrive,
sorting incoming recordings by media type and genre,
translating record labels (from Hebrew and Yiddish into English),
checking incoming recordings against the list of recordings already in the collection,
providing help with fundraising events,
writing album notes and reviewing information found on album jackets.
Top Ten Reasons to Volunteer at the Recorded Sound Archives
Translations of Russian Music Titles Allowed FAU Graduate to Give Back
Currently...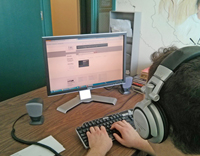 We are seeking volunteers who are able to enter information about LPs, tapes and CDs into a computer database. This position requires working at the FAU Wimberly Library in Boca Raton. Volunteering is available Monday -Thursday from 9am - 4pm. If you are interested in volunteering, please call to schedule an appointment to ensure a computer will be available.
To find out more or to schedule a time when you would like to volunteer, please call us at (561) 297-0080