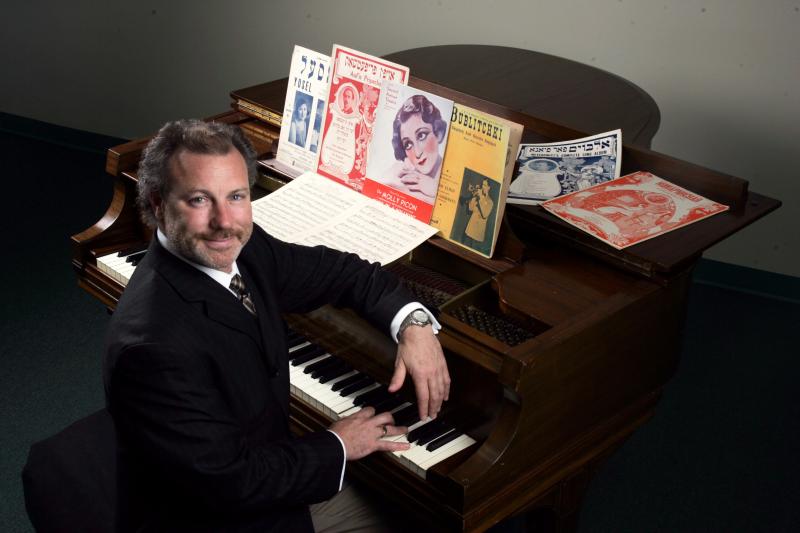 Aaron Kula is an active performer, educator, composer and conductor. His lifelong interest in Classical, Jazz and Folk music led him to form the award-winning KCO (Klezmer Company Orchestra) in 1997, which performs and blends repertoire from each of these genres.
Maestro Kula conducted the Florida Atlantic University (FAU) orchestra for six years before being appointed the first Director of Music Performance and Education at FAU Libraries in 2003. His interdisciplinary activities at the University include performing, archiving, and directing the annual Kultur Festival. He often lectures about the library's diverse and historical print music archives and leads educational workshops and master classes.
Kula has recorded four CDs with KCO, using vintage melodies from the archives as source material for his new compositions. In 2011, the Library of Congress selected his CD Beyond the Tribes to be included in its national music archives. Kula served on the conducting faculty at New England Conservatory (NEC) in Boston, where he conducted high school and college orchestras from 1986 to 2012. Previously he served on the faculties of Boston University and the Chautauqua Music School in New York and guest conducted the Boston Ballet, Miami City Ballet, Erie (Pa) Civic Ballet, Boston Conservatory Symphony, Santa Fe Symphony and Chorus, Boca Raton Sinfonia and New Hampshire Ballet.
He has worked with renowned artists including Yo-Yo Ma, Richard Stoltzman, Hakan Hagegard and members of the Boston Symphony Orchestra and has led many international orchestra tours with NEC, Harvard and Stanford universities. He has also performed with New World Symphony in Miami and served as a consultant for the Klezmer exhibit at the Musical Instrument Museum in Phoenix. Maestro Kula holds a Bachelor of Arts in music theory and Judaic studies from the University of Minnesota and a Master of Music in theory and conducting with Distinction in Performance from New England Conservatory of Music.
Music courtesy of Florida Atlantic University Libraries & Aaron Kula